The new music video for animated band Gorillaz is directed by Gorillaz co-founder Jamie Hewlett and Nexus Studios' Fx Goby.
The psychedelic video for new track 'Cracker Island' ft. Thundercat "takes viewers on a late night jaunt to the City of Angels."
Originally based at Kong Studios in West London, Gorillaz have relocated to Silverlake, California as they recruit new members to join 'The Last Cult', in search of the one truth to fix the world.
The band now appear in 3D, "courtesy of a close creative collaboration between Hewlett and Fx Goby."
The move into 3D "paves the way for multi-platform activations and the opportunity for fans to step further than ever before into the weird and wonderful world of Murdoc, Noodle, Russel and 2D. Jamie and Fx's fusion of animation and live action blends with clever lighting techniques and hallucinatory appearances by virtuosic bassist, mercurial talent and twice-Grammy winner, Thundercat."
'Cracker Island' is a Nexus Studios and Gorillaz production with on-location support from Tuna Icon (Belgrade) and AzuL (Barcelona), and Grade from Black Kite Studios
"Gorillaz's iconic and groundbreaking legacy hugely inspired my early animation career. I was thrilled to partner with them to create this blend of live action and animation, and knew we would need the perfect balance between stylised and realistic. I couldn't be happier with the sculpt and textures both faithful to the design but very much their own version. It was a privilege to work with 2D, Murdoc, Noodle and Russel not only in 3D but in this wild new era" – Fx Goby, Director, Nexus Studios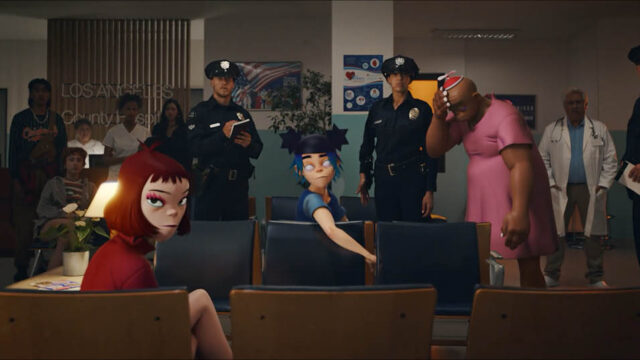 Production Credits
Directors: Jamie Hewlett & Fx Goby
Executive Producers: Jamie Hewlett & Damon Albarn
Jamie Hewlett and Damon Albarn are managed by Eleven Management A Nexus Studios & Gorillaz Production
Production Company: Nexus Studios
Executive Producers: Charlotte Bavasso & Chris O'Reilly, Mike Bell CG Leads: Dave Hunt & Florian Casper
VFX Supervisor & Compositing Lead: Germán Díez
Director of Photography: Ricky Patel
Editor: Dave Slade
Producer: Jo Bierton
Production Manager: Ruyi Meer
Production Coordinator: Tyler Antin
Production Assistant: Megan Silvester
Storyboard Artist: Rodrigo Aquino Verdun
Character Modeller: Andy Hickinbottom
3D Generalist: Andy Spence
Rigging: Niko Rossi, Nayla Nassar
Modeller & Texture Artist: Catarina Loja
Pipeline TD: Tom Melson
Animators: Fabrice Fiteni, Marylou Mao, Tom Lowe, Fatih Dogan Lead Lighter: Carl Kenyon
Lighting & Rendering: Pawel Adamiec, Rodi Kaya, Daniel Prince Lead Compositor; Sacha Danjou
Compositors: Gareth Tredrea, Sander Saks, Hiral Kawa, Alexey Viatvud, Gourav Kumar, Simran Arora, Osman Baloglu
VFX Editors: Andrea Zantiras, Zaki Fulford
Designer & Matte Painters: Milan Baulard, Callum Strachan, Paul Campion
Designer: Ieuan Lewis
2D VFX Animator: Bethany Levy
3D VFX: Paul Mitcheson
Motion Graphics Designer: Nathan Bayliss
Head of Resources: Natalie Busuttil
Resource Manager: Gigi Kohut
Resource Coordinator: Meg Dupont
Archive Producer: Lisa Savage
Sound FX Designer: JM Finch
Grade Company: Black Kite Studios
Colourist: George K
Colour Assist: Thomas Kumeling
Colour Producer: Jade Denn
Marketing & PR: Valentina Tarelli, Nancy Edmondson, Isobel Wise, Steph Anjo
Service Production Company: Tuna Icon Executive Producer: Ivana Antic
Line Producer: Diana Bojovic Production Manager: Kristina Markovic Production Coordinator: Jovana Krnic Casting Coordinator: Igor Milakov
Key PA: Iva Masic
1st AD: Ivan Grbin
2nd AD: Ratko Obrenov
3rd AD: Danilo Cekovic
Production Designer: Goran Joksimovic
PD Assistant: Livija Mikic
Picture vehicle Coordinator: Dejan Kokot
SFX Supervisor: Zamal M'Barek
Costume Stylist: Ivana Ivic
Stylist Assistants: Ivana Djurkovic & Sofija Jaksic Hair Stylist: Vasilisa Maljm
Makeup Artist: Irena Miletic
Makeup Artist Assistant: Galina Yurkevych Makeup Artist Thundercat: Irene Leon
Key Grip: Ivan Lekovic
Gaffer: Igor Pavlovic
Light desk operator: Nikola Uzelac Focus puller: Milan Kostic
2nd AC: David Kostic
Video Assist: Željko Nikolic
Q-take: Ivan Tanaskovic
DIT: Jovan Nikolic
Playback operator: Srdjan Bajski
Unit Manager: Oliver Rnjak
Transport Coordinator: Miodrag Jovicic
CAST:
2D, Noodle, Russel Hobbs, Murdoc Niccals, Thundercat
Supporting cast:
Milica Tepavac, Sonja Vukicevic, Ivan Tomic, Rudolf Tsabalala, Vukasin Stanic, Ella Landesman, Sippa Hengprathom, Nani Pavlovic, Tea Simic, Snezana Radivojsa, Rajesh Kalhan, Roda Adan
Spanish Service Co: AzuL
Producer: Lyndsay Fields
Line Producer: Sol Jonas Mackinlay Production Assistant: Judith Gómez Production Runner: Juanma Romera Focus Puller: Rafael Miralles
Video Operator: Victor Rodríguez
DIT: Eduardo Jiménez
Gaffer: Albert Álvarez
Wireless Tech: Martí Pluma
Spark: Pablo Perez
Wardrobe Assistant: Cyntia Rodriguez
Eleven Management are:
Niamh Byrne, Regine Moylett, Tanyel Vahdettin, Stars Redmond, Astrid Ferguson, Gabriele Power, Ellie Nolan, Aston New, Katherine Nash, Suzi Grossman, Selena Dion, Clare Moss, Hannah Norris
With thanks to:
Thundercat, Dom Smith, Alison Smith, Josh Berman.
Share this story
Share Televisual stories within your social media posts.
Be inclusive: Televisual.com is open access without the need to register.
Anyone and everyone can access this post with minimum fuss.