TV drama production is well and truly booming in the UK right now, but the challenge is sourcing the talent to make it. Tim Dams reports
[This piece was first published in Televisual's Winter issue. Subscribe here]
After the protracted Covid-19 shooting hiatus of 2020, the drama sector is well and truly booming.
Production is running at record levels in the UK. Streamers and broadcasters are both trying to make up for last year's lost time, and are focused on scripted in their ever more competitive battle to attract and retain audiences.
The country has become the premier international hub for drama shoots, with inward investment series from the likes of Netflix, Apple TV+, Amazon, HBO and Disney+ attracted by the UK's high-end TV tax credits as well as its talent, crews and facilities.
An astonishing 174 high-end drama productions started shooting in the first nine months of 2021, with a total UK spend of £3.31 billion, according to BFI figures.
99 of these were inward investment shows and co-productions, such as Netflix's The Crown and Havoc, with a spend of £2.75 million. 75 were domestic UK productions like Silent Witness, Shetland, Marriage and Funny Girl with a combined £553.5 million spend.
The first nine months alone have a higher spend than any other full 12-month calendar year on record – coming in 53% above the previous full year high of £2.16 billion in 2019. Both inward investment and domestic production levels are at record highs.
Amid such a frenzied pace of productions, there is a discernible sense of tiredness about the sector as 2021 draws to a close. For more than 18 months, everyone seems to have been working in a heightened state. First came the dramatic shutdowns after March 2020, then the challenges around restarting safely with Covid protocols from summer 2020, and then an accelerating pace of production during 2021.
Gabriel Silver Sky Director of drama commissioning

What upcoming shows are emblematic of Sky drama right now?

In recent years we have produced dramas that take viewers deep inside a world and have an ensemble cast of characters – Gangs of London or A Discovery of Witches are good examples. They tend to have broad appeal as returnable dramas. We also look for landmark mini-series that really are event TV. We'll close out the year with Landscapers, starring Olivia Colman and David Thewlis, which is a radical take on the true crime genre, and begin 2022 with a thrilling four-part drama The Fear Index starring Josh Hartnett and based on the Robert Harris novel.
We're also keen on distinctive voices in British storytelling, and we'll be launching Sian Robins-Grace's The Baby later in '22. The Rising is another Sky Original – the first produced entirely in-house by Sky Studios – that I'd point to as fresh, distinctive with global appeal while being rooted firmly in the UK. That, The Midwich Cuckoos, adapted by David Farr and starring Keeley Hawes, and a Joe Barton (Giri/Haji) time-loop thriller are our tentpoles next year.

What are you looking for?

Anything we make as a Sky Original must be content worth paying for. By that, I mean it must feel like premium pay TV, be more audacious than the free to air channels, but also feel rooted enough to connect with our customers across Sky and NOW in the UK & Ireland.

What is Sky doing to secure the best ideas and talent?

We like to see ideas early at Sky, either at pitch or script stage, and be a real partner to indies and talent as we develop their ideas together. For Sky it needs to have a particular tone and we have found that when we are involved early, we are able to work in collaboration with talent to hone a show to make it distinctly Sky, while giving them the freedom and space they need to realise their vision.
Set to drop
"I think the scripted community is exhausted," says BBC senior drama commissioning editor Amanda Levin. "Keeping going at pace over the last couple of years has been really, really punishing for writers, developers, practitioners and producers alike."
"It's really important in the middle of this melee to try and exercise compassion. Nobody is at their best when they're really shattered and stressed. Great work is still happening though – and it's happening thanks to the tenacity, vision and resourcefulness of the authors, producers, cast and crews we rely on."
While the boom is positive in that there is plenty of work around, the flip side is that there is an acute shortage of crews and facilities.
Nicola Shindler, who set up Quay Street Productions after leaving Red Production last year, says that this has been the hardest year of her working life in terms of getting projects made. "It is a very, very difficult time to actually produce," says Shindler who has recently exec produced C4's It's A Sin, BBC One's Ridley Road, Netflix's upcoming Stay Close and ITV's No Return. "Finding the talent to make the shows is now one of the most difficult things that any production faces. Crews are just so overworked."
She says the unsung heroes of the past 18 months have been production teams, who have not only negotiated crew shortages but complex Covid-19 safe shooting protocols. "I've had two amazing heads of production at Red – the stress they've been through, and the situations they have had to deal with, have been extraordinary. And it's been the same for every production company."
Belinda Campbell, joint managing director of Death in Paradise and Sanditon producer Red Planet Pictures, concurs. "There is a proper, proper shortage of everything – crews, studio space…"
Even if producers manage to assemble a brilliant crew in the first place, Levin says that hanging on to them all the way through a production is another matter altogether.
The demand for crew has led to greater opportunity for younger talent to climb the production ladder quickly.
However, some people are taking on massive shows without necessarily enough experience. "It used to be that you went through a process," says Shindler. "There isn't time for that now. Training is out of the window. For a lot of people it is sink or swim. Most people are swimming and doing brilliantly. But there are always going to be a few that really struggle."
Levin too worries about the impact of experienced crews and creatives being spread too thinly around the industry. "The danger is that can dilute the potential to build pieces of proper excellence. Brilliant work in TV drama is always the culmination of so many clever heads and so much expertise."
Over at Sky, director of drama commissioning Gabriel Silver, takes a slightly different view. He agrees that there has never been a better time to be working in UK drama. British talent, both on and off screen, is in high demand from the global content community – but he argues that there's plenty of talent to go around.
"There are craftspeople working here – writers, directors, producers – who have learnt their skills over years, often decades, whether that's through the UK's proud tradition in long-running, continuing drama – which provides a rigorous training ground for some of today's top creatives – or from the stage, which is still our most undervalued creative resource in television drama," says Silver.
At Channel 4, head of drama Caroline Hollick says that competition is acute for on-screen and writing talent too. "But the competition for on-screen talent or writers can be energising, because you have to think outside the box and not just go for the obvious choices. Representation is hugely important for us…and that's something we want to ensure throughout 2022 and beyond."
Caroline Hollick head of drama Channel 4

Which of your upcoming dramas are emblematic of C4 drama right now?

Peter Kosminsky's The Undeclared War takes the hot button issue of cyberwarfare and the threat to democracy, and creates an intense character driven thriller. Chivalry, written by and starring Steve Coogan and Sarah Solemani, is a romantic comedy, but one that asks challenging questions about gender relations post #MeToo. Screw, our prison-set drama, is very much in the Channel 4 tradition of distinctive, entertaining workplace series. And we've got a brilliant younger-skewing drama from the makers of The End of the Fucking World, written by new writer Pete Jackson.

What are you looking for?

We're always looking for dramas which shine a light on who we are today and make audiences think about the world in a different way. Entertainment with purpose. So, for me the point of view, what a writer is burning to say, is the most important thing. But it's telly, it's got to be a great watch!

What is the state of the drama market like going in to 2022?

Drama in the UK is in an incredibly exciting place right now. There are so many exciting international partners out there who are really keen to collaborate on Channel 4 shows, because we are such a strong, respected brand. But the competition for talent is tough – particularly off-screen talent, there's a difficult crew shortage right now and that's a real challenge.

How can C4 drama stand out?

By telling stories which feel fresh and new, which are brilliantly executed. Easy, right?! We make fewer hours of drama than the other mainstream channels, or the streamers, so we have to make each opportunity count. But on the upside, we can have a boutique approach, the drama we make gets so much love, care and attention, not just from us in the commissioning team but from press, marketing too and all areas of the business.
Costs climbing
The talent, kit and facilities shortage has led, unsurprisingly, to significant cost inflation in the market. For once, crews and suppliers have been on the front foot, able to negotiate increases in wages and costs.
That is, of course, welcome for many of those working in and supplying the production sector. But, says Campbell, it has put "massive squeezes on budgets at the same time as we have additional costs from Covid [safety measures]."
The rise in costs could be worrying for the future prospects of the UK drama industry. Campbell, who has just finished production on ITV crime thriller Our House, has no doubt that plenty of shows will be made here in the coming year. "The question is whether we can remain competitive when those costs are going up. Will people start looking to different places in Europe because they are more cost effective?"
Because rates have gone up so much, there's no such thing as low budget drama any more, says Shindler. The rise in costs, she thinks, will inevitably mean less commissions as broadcasters and streamers look to save money. "It is going to have implications over the next couple of years," she says.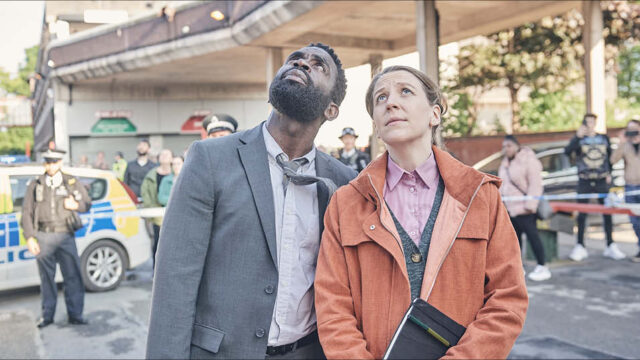 Competitive market
If production is hard, so too is winning a commission. The drama market has become crowded and intensively competitive. Dozens of scripted producers have launched in recent years, all vying for a share of a growing scripted spend by streamers and broadcasters. It's not known exactly how many drama production companies there now are, but the figure runs into the several hundred.
Many went into development overdrive during lockdown when production was impossible, taking the time to focus on scripts and new ideas. All these projects are now flooding the market.
Tom Coan, executive producer for NBCUniversal International Studios, has recently started developing and pitching projects again having just delivered the third season of Amazon thriller Hanna. "There is so much in the market right now," he says. "There is an absolute surplus of development…buyers are inundated with material."
This is a point recognised by Daisy Mount, development executive for scripted originals UK at Amazon Studios. "There is a lot out there," she admits. "As a streamer, we don't just get pitched here [from the UK], we get pitched from all areas."
Amanda Levin, BBC senior commissioning editor, drama

Which upcoming shows are emblematic of BBC drama right now?

The thing that runs through most of our commissions is a desire to be ambitious about what mainstream means. That could be Martin Freeman tumbling into darkness in The Responder, or James Graham examining the seismic reverberations of the miner's strike in Sherwood. Both pieces talk about contemporary life with flair and heart.
We love strong and provocative flavours. Watching Jamie Dornan in The Tourist or Shane Meadows making his first period drama The Gallows Pole is thrilling. Trying to think about what the perfect BBC show is, I wonder if it might be Happy Valley – it takes a very established TV drama genre, but has such a specific sense of place and it's got the most complex, iconic character in Catherine Cawood. The stories in Happy Valley are both kinetic and heart wrenching. Somehow, it becomes a story about the struggle of being a human in the world today, which is what all drama should come down to.

What are you looking for now?

We are always looking for stories that surprise us and are there because an author can help us see something authentic and universal with fresh eyes. As result, it's underrepresented parts of British life that will help us stay relevant and creatively robust. It could be work from the British Asian community or deaf, disabled and neurodivergent writers, or original voices from Newcastle, Bangor, Caerphilly or Aberdeen.

What are audiences responding to at the moment?

As a viewer, it can be really exhausting just trying to work out what to watch each evening. [So there is something] special about episodic returning drama. They build such a unique relationship between viewers and characters. Those very cherished shows become inestimable in their values. So we are working very hard to try and build the new Peaky, Line of Duty or Call the Midwife.
Cutting through
There is also, of course, the additional of challenge getting your drama to stand out in a crowded market, at a time when audiences have so much to choose from.
Amazon's UK scripted team has completed shooting on four UK originals this year – supernatural thriller The Rig, grime and drill musical drama Jungle, Jez Butterworth's comedy drama Mammals and thriller Devil's Hour, written by Tom Moran. Three of them are from new creators, all of them are contemporary UK set stories that are meant to resonate with British audiences. These are on top of UK based dramas from Amazon's global drama team, which includes The Power, Anansi Boys, Citadel and Good Omens.
In the next few years, Mount thinks that viewers' need for escapism is going to become more important. "I've really enjoyed shows that aren't too demanding recently – shows that are really pleasurable to watch. Our viewing habits are often a reaction to what is happening in the real world. There's a real want for TV shows to have a bit more fun."
"We're not afraid to explore dark topics or to really challenge viewers, but we're going to be entertainment first," she says.
Historically, Amazon has had a male slant thanks to its All or Nothing football series and The Grand Tour. "We are very much talking about bringing in female viewers, and talking to younger audiences, particularly younger adult audiences," says Mount. "Finding shows that can deliver joy and escapism is really important for us."
Over at the BBC, Levin says that audiences have gone for returning series like Call the Midwife, Silent Witness and Line of Duty. At a time of infinite choice, familiar shows have felt more precious than ever, she says.
BBC drama hits this year have included Bloodlands, Time and Vigil. "Those pieces had breadth of appeal in very divided times," says Levin. "They're very different, but they share a geographical authenticity and specificity. And I think that's always been vital to BBC drama. Now more than ever, we ask ourselves, what parts of the UK aren't being portrayed? And how do we keep curating work towards that."
Having dramas rooted in a particular UK place is increasingly important to the BBC, it seems. "The BBC is there to serve British audiences. And I think that that becomes more and more precious, when so much content has an eye on being global," says Levin.
Coan says that amid the 'flood of content out there for consumers', it's key for a project to have a 'self-marketing' aspect to it.
Dramas have to be able to stand out on their own, he says. That might be achieved through a big talent attachment. Or a drama might be based on existing IP. This certainly helps attract buyers, says Coan, because "there is a credibility to the product already. And hopefully with that credibility also comes an audience who will tune in." Or, says Coan, it's just 'the uniqueness of the idea' that draws in fans.
Among the dramas to draw in audiences this year are the BBC's Vigil, Channel 4's It's a Sin, Netflix's Lupin, HBO's Succession and White Lotus, Apple TV+'s Ted Lasso, and Netflix's Squid Game.
All have elements that broadcasters are currently looking for, whether it's the propulsive energy and joie de vivre of Lupin, the performances, heart and depth of It's A Sin or the way that the high concept, brilliantly executed Squid Game has come out of nowhere to win viewers around the world.
Sky's Silver picks out It's A Sin, White Lotus and hit FXX comedy Dave. All are very different shows in terms of premise, genre, casting and budget, he says. "But the red thread running through each of them is brilliantly crafted characters. Particularly throughout the pandemic, viewers wanted to be told stories that they hadn't heard before or seen on screen."
C4's Hollick, meanwhile, cites Succession as being about as good as TV drama gets. "The characters are so layered and well-drawn, their stories become more and more interesting the more the series goes on." She also picks comedy Alma's Not Normal as funny, but also having "so much to say about sex and class.
Amazon's Mount cites It's A Sin. "Nothing has affected me in the way it did." While the show was about the HIV crisis, it's actually about friendship and joy as well, says Mount. "It made me want to go to a house party, but it's heart-breaking too. It was a real masterclass in balancing entertainment with depth of story, and had really fantastic performances."
Fresh perspectives
Shindler takes heart that so much rich material is coming through drama production companies. "It's a fantastic time to be an independent production company because every [commissioner] you meet is saying, "What is the best you have got?' Nobody is saying, 'What have you got that can fill a slot that's like ten things we've done before?'
It means producers can meet with writers and discuss what they really want to make. "We know that we can be really, really bold with our commissions as well, because there is an audience for that. It used to be that you would be much more conservative, because taste amongst broadcasters or buyers was more conservative. But that's just all changed," says Shindler.
The focus on diversity and inclusion, which has only grown since #MeToo and Black Lives Matter, means there is an appetite for a greater range and breadth of stories. "There are so many stories that weren't told, because we were looking in a certain direction at a certain group of people to both tell stories and to represent them on screen," says Shindler.
Above all, there's a demand for 'hooky', engaging drama which keeps viewers entertained and stops them from switching to the many other distractions and offerings on their digital devices, whether rival dramas or social media posts. "What audiences won't tolerate these days is being bored," says Levin. "You need to marry a kinetic story with something that feels rooted in something honest, human and truthful, and has a fresh perspective."
Share this story