Mandy Walker, ACS, ASC
CREDITS
Mulan, Hidden Figures, Australia, The Mountain Between Us, Tracks, Jane Got a Gun, Truth 
All of the information for me comes from story and how the director sees the movie and how they envision parts of the film or the character's journey. I first go through the script with them and get them to explain to me the different emotional beats of the film, so that I really understand the storytelling. 
I normally go back to locations two or three times in prep to make sure that I have all the information. The first one is for the impact it has on you, whether it feels right for the part of the story that we're telling. Then I'll go back and take photographs. After I think about ways to shoot things, I'll go back again and start to look at how to logistically do those shots. 
I've always got a lens to suit the style of the movie. When I did Hidden Figures, it was set in the 60s and we had a lot of archival footage, so the director wanted to match the style of that period. I used film and I used T Series and E Series anamorphic lenses which were from that era. I shot the big Mulan exteriors on Panavision Sphero 65 Lenses, though [to keep focus on the character] when shooting Mulan herself, I got a lens specially adapted that would focus in the centre and drop off on the edges. When I shot Tracks in the desert, I used G Series because they were the most modern anamorphic lenses and I wanted to bring that epic scale in a more modern sense in terms of flavours, focus and colour and everything.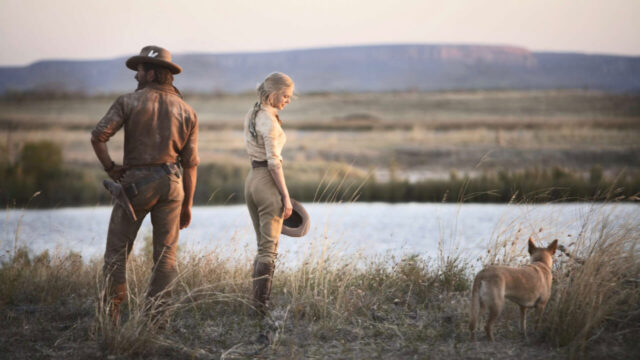 The hardest thing to shoot is day exterior – you don't have control of the light and it goes behind clouds. When you've got a film that's going indoors, outdoors and moving around a lot, you don't have the choice. I try to balance that with contrast. So when it's cloudy, I expose pretty much correctly and then when it's sunny, I always overexpose a little bit to create less contrast. So I protect my highlights but I open up the shadows. 
When I get into the final grade of trying to match a cloudy shot with a sunny shot, I've sort of put the exposure more in the middle, so that I can give one a bit more contrast and one a bit less contrast and try to smooth it out. 
My job is to help the director tell their story. If sometimes they are really not sure what to do with a shot, I'll ask how they want the audience to feel what's going on with the character at that point. Once they tell me that, then I can work it out. Although my job is very technical, I'm also an artist and I work on an emotional level. So sometimes I'll make a decision that's based on how I feel and how I see something, like we shouldn't move in a sequence so not to detract from what's going on in the frame. Once I've done all my technical tests and everything, then from then on, it's about what feels right.
The films that I pick are always different. On The Mountain Between Us we shot up in the snow at 11,000 feet and I had to get a crane and a dolly up there and work out how to track with the actors in three-foot snow. On Mulan we had to shoot a big battle sequence over weeks. I think the best part of my job is working out how to do something new. I'm on my 20th film right now that I've shot but I'm still learning.
Share this story
Share Televisual stories within your social media posts.
Be inclusive: Televisual.com is open access without the need to register.
Anyone and everyone can access this post with minimum fuss.