Sponsored by Splice
A look inside Splice's impressive new Nile Street building in London's Old Street
Co-founders Duncan Western, Damian Dolniak and managing director Richard Folley
Co-founder Duncan Western Back in 2002 I was cutting various music docs for Somethin' Else. At the time, there were no post houses in East London, so I was renting an offline suite in Hoxton's Filmmakers Co-op. The co-op folded shortly afterwards while I was halfway through editing a music doc for Don Letts. My first thought was how to finish the doc I'd promised, and this quickly turned into a business venture with Damian Dolniak stepping in to help with the technical elements. We borrowed money from East London Small Business Centre, friends, families and bought our first on / offline Avid suite complete with a futuristic rise-and-fall desk from the Filmmakers Co-op liquidation sale. On April 1st (yes, really) 2003 Splice launched to an unsuspecting world in a small office in the Truman Brewery in East 1.
About two years later we got a contract to edit the ITV Chart Show and needed more space for another offline suite and with our profit to date invested in a 1,200sq ft building in Shoreditch, which has been our spiritual home ever since. Soon after, we needed another three suites and expanded into Perseverance Works – an ex-printing factory – with 4,000sq ft and another four years later a further 2,000sq ft. The building is still a 25 suite off /online and audio Splice facility. In 2011 Air Studios sold us their 10,000sq ft offices in Old Street which now offers production offices and a further 28 Avid  offline suites.
Fast forward to 2022 and we now house 95 suites in three buildings – including our impressive new building you can see here – with a further 60 remotes suites and we're still looking at further expansion. Our work still includes lots of documentaries but now encompasses drama, comedy and entertainment. We're currently finishing the audio and picture masters for an animated feature film for Sky with the voices of Hugh Laurie, David Thewlis, Emilia Clarke, David Tennant and Himesh Patel.
Still independent, still growing, still in East London … and worldwide!
Managing Director Richard Folley Our newest facility at Nile Street is the culmination of years of hard work and excellence from the crew here at Splice. With demand for our services at an all-time high, our new building allows us to continue delivering work to the highest standard long into the future; an environment where our team can creatively excel, and our clients can realise their vision.
From specialist factual to drama, linear to SVOD and everything in between, Splice Is a creative led, team focussed company and everything about Nile Street supports our values. Our market-leading, flexible facilities offer a comprehensive post production service in the heart of East London. Nile Street is a project we're all extremely proud of.
THE NEW BUILDING
Co-founder Damian Dolniak What was really exciting was the opportunity to design a large-scale facility from the ground up. My vision was always to have uniformity across the building. There was never going to be a compromise on technology, comfort or flexibility. Our use of technology was always going to be intelligent and an invisible enabler.
The building has over 40 multi-use cutting rooms, six online picture rooms, three grading rooms and six Dolby Atmos studios, as well as a number of technical support areas, two data centres and redundant power and internet systems. The attention to detail carries through to high spec kitchens. We have created the best possible environment for our clients and the team to work, relax and connect with production offices, private spaces and communal areas throughout the building.
The online and grading rooms are distributed on all four floors while the Dolby Audio studios are all contained within the more insulated basement area. To enable the studios to meet strict design criteria, the construction process involved the whole area to be 'floated' on a raised concrete floor using springs to decouple it from the main building.
All finishing rooms are 8K resolution capable and all picture rooms in the building can support UHD, HDR and HFR workflows. There's over 10,000TB of onsite storage, as well as cloud and edge computing.
Furniture by AKA Design
Co-founder Duncan Western AKA Design played an integral role within the overall building ambience. Guy Wilson and his team have designed and built beautiful desks to order for all of the picture and audio suites as well as in reception. The furniture perfectly matches the building aesthetic while being a pleasure for our team to work at with ergonomic design and thought-through details and flourishes.
The online and grade room desks include electric risers so that our operators can choose to stand or sit (or both) while they work. Our colourists and editors love having the option. The audio desk in Sound 1 comfortably accommodates two engineers working on an Avid S6 console with 48 faders.
GRADE & ONLINE
Senior Colourist & Head of Picture Adam Dolniak Our new mirrored grading suites feature the latest Baselight TWO with a Blackboard 2 control surface and the gold standard Sony HX310 reference monitors to work from and a 65" calibrated director's monitor. The carefully and beautifully designed space provides a layout to improve both the client and operator experience and sits very comfortably with our creative ambitions for the picture department.
The Nile Street grading and online rooms further support our growing footprint within the world of 4K HDR SVOD content, with recent projects including work for Netflix, Amazon, Nat Geo and Sky.
Head of Online Tristan Lancey The online suites are large and spacious with a tiered, cinematic layout creating a relaxed client area as well as a second row in front of the large LG OLED TV. It works for collaboration and review as well as offering a more private client space.
I love the desks with electric rise so I can stand up and work as well as share the primary Sony HX310 reference monitor which I can seamlessly switch between HD and UHD or standard dynamic range and HDR at the flick of a button. I can also quickly switch between Avid, Resolve or Flame depending on what the job requires that day.
Monitoring by Sony through Big Pic Media
Co-founder Damian Dolniak Working with Adam Welsh at Big Pic Media is always a very positive experience. The Sony HX310 reference grade monitors are an integral part of our HDR workflow. We always work on them in all of our critical picture and mastering rooms as the final point of colour and contrast truth. At one point over Covid these monitors were extremely hard to come by and Big Pic Media went the extra mile in finding a source and getting them to us when we needed them. The HX310s are without doubt the gold standard HDR reference monitors and fall in line with our no compromise approach to engineering.
AUDIO
Audio Operations Manager & Senior Dubbing Mixer Joe Cochrane Nile Street features six brand new audio suites that each have unique project-specific features and yet are also highly integrated. This allows us to scale projects as needed with a range of work encompassing documentary, animation, comedy and entertainment. In addition to our mix rooms and Dolby Atmos suites, we have both an ADR and sound design studio.
The new audio department totally delivers on everything we'd hoped for as a team. When clients first come to Nile I'm usually greeted with a "Wow!" The size and quality of the studio spaces, combined with the technical horsepower to handle extremely complex projects, has led to revised workflows that have drastically improved the efficiency and creativity in how we work and our clients' audio journey.
Senior Dubbing Mixer Matt Baird Sound 1 at Nile Street is the best studio I've ever worked in. It sounds amazing. Dolby said they could hear details within the Atmos that they hadn't heard before.
The 48fader Avid S6 console has as much horsepower as one mixer could ever need and is big enough for two mixers to work comfortably side by side. My clients absolutely love the room and I think they respond to the finish, lighting and ambience as much as the size. I do a lot of scripted comedy work but am currently working on an animated feature film. My feature doc clients love coming into Sound 1 as well. 
Audio console desks by Avid through Jigsaw24
Co-founder Damian Dolniak As always, Tim Bridger at Jigsaw24 was very helpful and despite the huge challenges with the supply chain over the last two years, Jigsaw24 has excelled at getting the tech into our new facility. This includes everything from the vast Avid S6 48fader console in Studio 1 to Dolby Atmos speaker arrays. The same hero suite has 24 JBL SCS8 speakers alone.
Jigsaw24 worked with us to recommend and source alternatives when certain bits of tech were proving difficult to find. The audio facility is based around the next generation Apple towers running Avid Pro Tools. This set-up is now a firm staple across all of our facilities.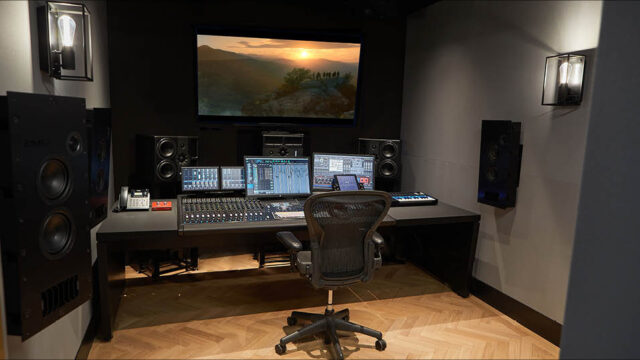 Share this story
Share Televisual stories within your social media posts.
Be inclusive: Televisual.com is open access without the need to register.
Anyone and everyone can access this post with minimum fuss.