Live sport is increasingly turning to cinematic cameras usually seen on a film set to add emotion and drama. But blending those shots with rest of the action is no easy feat. Michael Burns reports
Manu Tomás Garcia, a Steadicam operator for Mediapro, has captured quite a few iconic La Liga shots in recent years, including one of Uruguayan striker Louis Suárez in an emotional post-goal moment.
"After Suárez had [left] Barcelona and went to Atletico Madrid, he scored the goal that made Atletico the winner of LaLiga," says Tomás. "He was sitting on the pitch, talking to his wife on the phone, crying. I got close to the ground and the shot was really powerful; everything surrounding him was completely blurred, you could focus on what he was feeling at the moment. It went viral everywhere."
Tomás didn't shoot with a broadcast camera, however, but a Sony Venice, usually more at home on cinema or high-end TV drama sets. It's part of a trend of using larger format cameras with cinema-style lenses for dramatic sports shots in football, boxing, golf, tennis, and American football.
EMG has been using such cinematic cameras for several years on non-sport projects, building on the experience to work with sports clients to integrate such shots into coverage.
"The main wide angle is a very standardised shot, being the angle that is most viewed by the consumer," says Martyn Edwards, Project Director at EMG. "When applied to a Steadicam or operated hand-held, cinematic cameras are mainly used for more artistic shots such as trophy lifts and teams' arrival shots. This is where [a] shallow depth of field really comes into its own, making the main subject appear at the front of the image, but maintaining a degree of clarity in the background. This is the wow factor that these types of cameras deliver."
"Directors have been looking at the cinematic look to provide more emotional context around games and use shallow depth of field as an additional shooting tool to build a game or match narrative in a way that connects with viewers," says Norbert Paquet, Head of Live Production, Sony Europe. "In particular, pitch side or pre- and post-game productions benefit from this look.
"Our customers have worked a lot with our Cinema Line cameras from the PXW-FX9 up to Venice2, for pre-game and ENG-related operations but also in live settings," continues Paquet. "However, most recently our customers adopted the HDC-F5500 system camera for its native integration into live production workflows and inherited all the operational functions assisting cameramen, shaders, and all operators in performing quick and precise operations. Thanks to its sensitivity, the HDC-F5500 can be used either as a 'regular' camera with a long depth of field, or a cinematic-look camera with a shallow depth of field.
"We're also seeing our newest ILME-FR7 PTZ camera becoming a de-facto standard for many applications, for commentary, studio and interview positions, on or off the pitch, as well as for some unique new angles that the PTZ form factor, the interchangeable lens options, and operational convenience offers."
"Using cinematic cameras has allowed Gravity Media to create content during the most key live-action capture moments, producing the motion before and after the match, including players walking on and off the court/pitch," says Pete Newton, Executive Director – Media Services & Facilities, at Gravity Media. "This allows viewers to be fully immersed in the sporting action, making sure not a moment gets missed."
Edward Tischler, Gravity Media MD, adds that such innovative capture techniques have been seen at the US Open, Billie Jean King Cup or Australian Open, "to create that exciting, edge-of-seat, live tournament feeling".
Artistic touchdown
The cinematic look will be familiar to fans of the NFL, often seen during celebration coverage after touchdowns or pre-match/post-match shots.
It was this sort of coverage that first brought cinematic cameras to the attention of Buzz 16 MD Duncan East, when he was Director of Creative Output at Sky Sports. East tasked his directors to explore ways of using it to enhance football coverage, and Sky trialled cinematic cameras with a live OB workflow on EFL and Premier League games.
"The actual shots in isolation [were] sensational," East says. "They added a real level of quality and 'stardust' to the right pictures, The cinematic shots were so good that they actually made the rest of the OB look at a lower level. The difficulty came in integrating it into a full, live outside broadcast. Where that's the only camera that looks like it does, how well can you cut that into a sequence?"
Just because something is different shouldn't stop you from doing it, notes East. "But if it makes the coverage jar, then you're not doing your job," he adds. "It should seamlessly blend into the coverage. Because it looks great in isolation does not mean it works as part of a full broadcast."
Sky decided not to go further with those trials, based mainly on overall value to the game coverage. "When you're actually filming live sport, depth of field isn't really something you look for; you need to show the whole picture," says East. "There's a lot going on in the background of certain shots and in the frame of the cameras that are really important."
However, East is keen to stress that the cinematic look does have its place around the rest of the match.
"I'd use it for the teams-out shots, to get that on-the-ground feeling with really high-end visuals as they enter the stadium, and then the post-match shots and the players coming off the pitch and then also in the presentation," he says. "I think one of the best examples where I've seen it used is the Canelo [Cinco de Mayo Themed Ring Walk] on DAZN. That was sensational, and that's where I think these cameras are at their best, where there's a bit of glitz and glamour, [around] but not necessarily during the sporting action."
Close-up
"The live sport environment can be extremely fast-paced in terms of event turnaround, so any solution needs to be easily deployable," says Edwards.  "With the Sony Venice and Arri cameras that we have used, the complication has always been signal delivery. In sport generally these cameras would be used with RF links from our sister company BRF. But when you venture into using them as a cabled camera then it can get complicated. To tackle this problem, we have tried a multitude of delivery systems. Each has its merits, but none really replicates the multicamera environment that sport demands."
Typically, EMG uses F55 cameras for both the main wide angle and the beauty shot. "However, this is by no means as standard and it's a client decision," says Edwards. "The most important thing for us is that the systems can deliver UHD 50p and/or 1080 50p to fit into our existing workflows."
As a solution, EMG used the Sony F55 with the CA4000 SMPTE back, enabling live capture of 4K from Super 35.
"This gave us the familiarity that we needed in terms of delivery, workflow, and operation," says Edwards. "With the launch of the Sony HDC-F5500, we have those benefits, but with more technology and improved ergonomics. The introduction of the global shutter is a game changer for events such as boxing, the reproduction of images from LED screens is sharper and clearer with the unwanted visual effects we see with rolling shutter cameras eliminated."
From an engineering/shading perspective, Edwards says broadcast and cinematic cameras can be matched very well. "If you mix manufacturers then there will be differences in colourimetry, but our UHD supervisors can do a good job at matching them.
"By stepping into the cinematic camera world, you get the advantage of more control in some areas," he adds. "For example, the Sony HDC-F5500 has three additional ND options in the filter wheel, compared to the Sony HDC-4300 that we use as our baseline sports UHD camera, which gives the shaders more control in dynamic lighting conditions."
Gravity Media is also using the Sony F55 and F5500, as well as the Sony HDC-4800 at up to 800 fps 4096 x 2160 resolution. "Due to the different sensors, lenses and zoom ratios when using the Sony cameras, Gravity Media is always sure to match the line cameras as part of the live outside broadcast," says Newton. "Using cinematic cameras and delivering a robust RF solution enables the freedom to roam around the sporting event."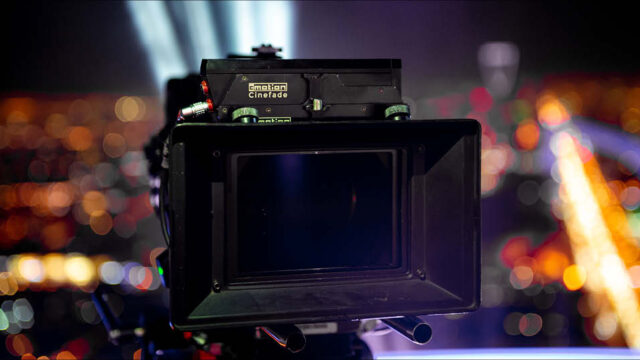 According to Manu Tomás Garcia, Mediapro's exploration of cinematic shots began a couple of years ago with some impressive goal celebration pictures from full-frame Sony Alpha cameras, which excited the press and caused client La Liga to ask for more. However, the lack of camera control and Mediapro's 4K HDR workflow meant a more sophisticated setup was required. Working with director Òscar Lago, Tomás experimented with the Sony Venice on Steadicam and tried out a vintage ARRI Zeiss Super Speed lens for the cinematic look. Tomás would work the iris manually, closing it down for maximum depth of field – and adjust the camera's ND filters to get the exposure right – until the occasion arose for a more artistic shot. "When something was about to happen, I had to change the filter on the camera, open the iris up [for shallow DoF], and tried to match the exposure," he says.
The inevitable happened during a La Liga match when another Steadicam operator, less experienced with the manual workflow, was caught out when the coverage cut to his camera while he was still changing filters. The result was very noticeable to the viewers.
Tomás started researching online for a better method and saw examples of the Cinefade VariND system used on film and high-end TV.
"The Cinefade system is designed to be quickly set up and operated so that you can transition from a deep depth of field to a shallow depth of field at a moment's notice," says its developer Oliver Janesh Christiansen. "Cinematic images work best in dramatic moments when you want to direct the viewers' eyes to a specific part of the frame or to isolate the goal-scorer and draw attention to them. This works particularly well if you manage to time the transition from a deep to a shallow depth of field when the player does their celebration to coincide with the director cutting to that camera, which can be difficult to achieve in a live environment."
The system consists of one motorised and one static polariser, which together form a variable ND filter that can be remotely controlled. The operator can vary iris diameter and affect depth of field, while the system automatically varies the light transmission to maintain a constant exposure. It works on any camera system with a cine-lens and matte box.
"Due to the nature of the effect and the VariNDs 1.5 stop initial light loss it is best to use high-ISO cameras, which is why most productions opt for the dual-ISO Sony Venice camera," he continues. "That way the camera can be set to ISO 2500 and the iris stepped down to T8 to achieve an image that is similar to the small-chip Grass Valley, Panasonic, or similar cameras but also quickly change to T1.4 to achieve the cinematic look.  The VariND [is] maintaining exposure, rather than the operator having to change back to ISO500 and exchange traditional ND filters to get the correct exposure."
Tomás now prefers to use a 50mm Tokina Vista Prime lens on the Venice for a 3/4 portrait shot. "Sometimes when the game is on, I keep the lens at maximum, at T8 or T11 depending on the lighting conditions. When the players are coming to me to celebrate or I'm chasing them, the focus puller knows to open the iris slowly, to keep blurring the background."
"Communication and timing between the director in the OB van and Steadicam operator on the pitch, as well as between Steadicam operator and camera assistant are crucial when you want to try to get the transition shot live on air," notes Christiansen.
With motorbike racing and other sports exploring ways of integrating the cinematic look, it's clear that there will be a lot of close focus in the future of sports coverage.
Main image – RAFAEL APARICIO. Story images: Gravity Media; EMG Group; RAFAEL APARICIO; Cinefade
Share this story