Russia invaded Ukraine at the end of February 2022. In April, the BBC commissioned acclaimed documentary filmmaker Olly Lambert to go to Ukraine. The result was extraordinary access, allowing Lambert and his editor and collaborator Tom Dixon-Spain to tell the story of civilians at war
Filmmaker Olly Lambert and editor Tom Dixon-Spain first worked with each other only one production ago, on Netflix docuseries Aftershock: Everest and the Nepal Earthquake. When Lambert knew that for his next film, he was going to the Ukraine, he also knew that he wanted Dixon-Spain at his side in the edit. He tried a number of different tacks to persuade him. "It was an unashamed courtship," says Lambert.
Dixon-Spain, shortlisted for this year's BFE Cut Above Awards for Liverpool Narcos, was weighing up what project to take on next. "It felt like this was something a little bit more than making television, which is a rare, rare thing."
Back in April of this year, the war in Ukraine continued to be one of the biggest stories in the news. As a documentary maker, Lambert has worked in several war zones. "I felt it was one of the biggest conflicts in my lifetime." He met with BBC Current Affairs executive producer Mike Radford who had worked with him on One Day in Gaza. "He was feeling the same: 'surely I should be on a plane.'"
They met with Joanna Carr, head of Long Form Commissioning for BBC News, at a café near Finsbury Park and decided the basics. They agreed that the film needed "a really good precinct – a street, family, hospital, office, city," says Lambert. "Somewhere that was potentially target rich for small stories that reveal the bigger picture – to look through a small window with a really big view."
But, with severe reporting restrictions, it was not straightforward. The BBC managed a budget for Lambert to take two four-week shoots, with a local bilingual producer. They kept costs down, with Lambert self-shooting with his own Sony FS7 and completing the edit logging and prep without the support of a post house. But they couldn't duck the significant cost of a high-risk adviser, obligatory for anyone shooting in the Ukraine for the BBC.
The other essential was an open mind. "For all the films I've looked back on with a hint of pride, I've gone out with one idea, but there's the flexibility and confidence from the commissioning level and down to completely change tack if that story isn't working, or if we find something better, to effectively junk the development and start a new project on the ground."
Change of plan
They decided he should go to Mykolaiv in Southern Ukraine, which Lambert describes as, "sitting on a fault-line between Ukrainian territory and Russian territory, with the neighbouring (then occupied) city of Kherson in everyone's sights." Before leaving, they'd approached the governor of Mykolaiv and local celebrity Vitaliy Kim, with a view to following his story.
Sure enough, the plan entirely changed. "I fell in with two groups of people," says Lambert. "If I could secure meaningful access, what these people were doing would be interesting as an internal narrative and shed a light on a bigger picture. Two story lines that could combine and speak to each other in an interesting way."
Kim was a reluctant subject, but he did take Lambert to the first group of people. "One day he did an amazing thing. He said, 'if you want to go to the front line, there's something you really need to see, get in the car'." He drove Lambert to a secret intelligence centre, staffed by people from all walks of life – teachers and architects turned soldiers. "It was the first moment when the film got an electric charge. At a precinct level, it was all happening, playing out in front of the lens, there were some good characters doing crazy shit.
"That was the moment I called Tom in a fit of amazement, thinking this is extraordinary – not fabricated – something going on that I've not experienced before when I've been covering conflicts. This feels new. But I didn't trust my judgement."
"You were worried that it wasn't enough," says Dixon-Spain. "There was some concern that there wouldn't be any front line action, that there was no embedding with the army. So, we needed to find another angle. My feeling when I heard it was that, even if that's all we've got, that's quite a good story. It felt like a really good angle."
"That was all the fuel in the tank I needed," says Lambert. "There were a couple of times on the shoot when I checked in with him: 'this feels good, but does it work? I'm not going to bring you a lot of rushes and you say what on earth?'"
As it turned out, this first precinct fizzled. The theme of real people doing extraordinary things stayed, but the intelligence centre became tricky to film.
One door closed, another opened. "We were struggling, and I chanced upon Roman Kostenko. I was meant to be meeting one guy and I don't know why it was he came to be sitting at my table, but there he was – an MP and commander with the special forces." After the meeting, Lambert's high-risk adviser warned, "Olly, this guy is the real deal." They met again the next day and Kostenko offered to take him to the front line.
"We ended up doing two or three weeks on the front line with special forces and that becomes the spine of the film, and we hang everything around it," says Lambert.
The process for editing involved Lambert sorting through the 200 hours or so of footage and archive and then grouping it into scenes and events, with timelines, before sending it to be translated. The translation took several weeks but used a smart system that allowed all the material to be subtitled. When Dixon-Spain started, he was looking at subtitled rushes.
With Lambert unable to understand Ukrainian, relying on his fixer/producer to translate piece-meal during the shoot, it was Dixon-Spain who had the first complete picture of Lambert's experience.
Teacher turned spy
He was the first to see the young teacher talking about her new work – taking phone calls from spies behind enemy lines – and concluding that she couldn't see herself going back to her old life. "The other thing that struck me," says Dixon-Spain, "was when she says, 'I never thought I could be cruel, I never thought I'd want people dead,' Throughout the film, Olly was always asking 'why are you doing this? why does this mean so much?'…That was the encapsulation of all their answers."
The next step was for editor and filmmaker to talk exhaustively about the scenes and events, to sketch out what happened in each location and with each character, how the footage might work in term's of the film's narrative and themes. After five days, they had a rough structure of five chapters containing a handful of potential scenes in each, with well over half the film already on the cutting room floor.
This was all done remotely, using Lucid Link software, combined with Postlab, so that both Dixon-Spain, based in the Midlands, and Lambert, based on the South coast, could connect to a central Avid project, just like a Nexus.
"The way I cut is slightly idiosyncratic," says Dixon-Spain. "I don't do a long assembly. I cut quite quickly…We talk about a sequence – say the mortar mission on the first day – and I will pull it, knowing all that information we discussed – how he felt about it, where it sits in the film, in our story or proposed narrative. And I would pretty much fine cut it straight away. For me, I need to understand the tone to know whether or how it's going to work and whether it's going to fit. It has the added effect that I can give it to Olly and that might inspire other stuff and we can get to a pretty good cut quite quickly."
Feeling of fear
Watching the rushes from that first trip, driving with Kostenko to the front line, Lambert explained that he was terrified. Dixon-Spain needed to ensure that the viewer feels this fear. "How Olly was feeling, sometimes that conveys itself through the rushes and sometimes it didn't come across as he felt it… For that drive, we recut it a few times. In the end it was brevity, the pace, that conveys the drama."
Mike Radford at the BBC was thinking the same thing and persuaded Lambert to create a first-person narrative to ensure that the impact of Lambert's personal journey was not lost.
Sometimes it was hard for Lambert to see the wood for the trees. "In my head, it's in a massive mush of stuff. But the ability that Tom's got to isolate, to draw on the conversation and what we're doing thematically and be quite laser sharp, finding a visual or narrative articulation of a theme and taking it on two steps….That's when edits really work, when Tom can hold big ideas, but is measuring every shot and scene and interview against those ideas and if they don't pass muster they are gone. He's ruthless like that."
There was a clear story about one of the special forces leaders, called Hummer, who goes to the zero line – as close as the trenches go to the enemy lines – to see what his civilian-turned-soldier brother is facing.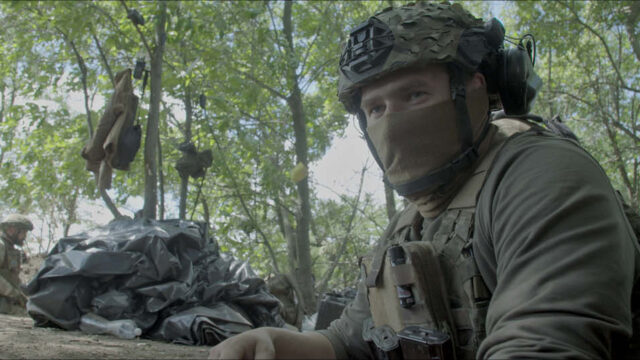 Search for an ending
Towards the end of the film, Dixon-Spain spotted a very short sequence with Hummer seeing off the next group of hastily trained rookies going to the front. "We'd got to the point where we'd fleshed out Hummer's story about his brother. And the lynchpins for any film are where does it start? Where does it end? I was searching for an ending, and this sense of a novice mission encapsulates what this film is about, which is about volunteers who don't know what they're doing…."
In the scene when Lambert arrives on the zero line with Hummer, Lambert explains that the fear of the moment clouded his vision. The military position was completely new to him, he didn't know the soldiers' purpose, the camp looked a mess. As they arrived, they were fired on by a tank and spent the first ten minutes in a ditch. "I couldn't orientate myself and Hummer was a bit thrown. I felt it was unprofessional and slip shod." His fixer disagreed. "He said, 'actually I think those guys are really efficient, they're really doing it, really effective'. Tom had the same response."
"The story we had was about Hummer's brother and the impact on him," explains Dixon-Spain. Lambert's view of the rushes was coloured by his impressions at the time, but the editor had the advantage of being outside, looking in. "In the event of editing that sequence – pulling and cutting it – what it was saying to me is 'these are a bunch of people who aren't trained, but that are totally dedicated and almost fearless and that's the Damascus moment for Hummer'."
For Lambert, it was a revelation. "Watching the scene he cut was seeing what had happened clearly for the first time, as I could watch without fear. And it was stunning to see what these guys were doing." It immediately presented the commentary line that the whole film turns on. "I couldn't have found that pivot until Tom had almost made sense of the experience for me."
After Lambert returned to the UK, the city of Kershon was successfully captured. One of Roman Kostenko's staff sent a clip of Hummer signing a flag on entering Kherson which they used to wrap the film.
The edit took eight weeks.
Having got the cut to 75, 80 minutes, "you can see those sequences for what they are within the film rather than individually," says Dixon-Spain. "That's the down-side, I am working quite chronologically, I'm fine-cutting scenes I might not use."
That's where his ability to be ruthless comes into its own. "One of the things I like about working with Tom is his complete impatience with anything that isn't working," says Lambert.
The result is their hour-long film Ukraine: How to Win a War (working title) which will air on BBC Two at the beginning of January.
Olly Lambert – Filmmaker
Aftershock: Everest and the Nepal Earthquakes Raw TV for Netflix; One Day in Gaza BBC; Syria: Across the Lines Quicksilver Media for Channel 4 (BAFTA, Emmy Award); One Day in Gaza BBC; The Bombing of al-Bara PBS Frontline; Abused: The Untold Story Minnow Films for BBC; The President v The Press BBC Newsnight; My Child the Rioter BBC; Mum and Dad are Splitting Up Rare Day for BBC
Tom Dixon-Spain – Editor
Aftershock: Everest and the Nepal Earthquake Raw TV for Netflix (two episodes); Liverpool Narcos Blast! Films for Sky Docs  (two episodes); Being Blacker BBC; Katie Price: Harvey and Me Minnow Films for BBC; American Justice Minnow Films for BBC  (two episodes); Life on the Psych Ward Rare Day for Channel 4; Conjoined Twins: An Impossible Decision BBC; Protecting Our Parents BBC (two episodes); The Year the Town Hall Shrank BBC (one episode)
PICTURE CAPTIONS:
Filmmaker Lambert with special forces leader Hummer on front line mortar mission near Kherson, firing on Russian trenches
Ex-teacher Daryna takes calls from informers
Special forces leader Hummer takes cover from Russian tank fire
Police patrol on the zero line, the closest position to the enemy
Share this story