The Look is a high-end colour grading and picture post company, responsible for work on the likes of Fleabag, Landscapers and Sex Education.
With productions for all the major linear and streaming providers coming through its suites, high security and agility is of vital importance. So, when CTO Mark Maltby investigated Infrastructure as a Service, the IaaS partner he chose would have to be one The Look and its prestigious clientele could trust.
"We're no strangers to remote working. In 2016 we installed PCoIP Teradici KVM on all our machines; it gave us more options to move around suites, without being tied to any particular space. In 2017 we set up a successful work-from-home solution, which meant that we weren't tied to the office at the end of the day when the US got online.
"We first worked with ERA when we were looking for a new fibre provider and they were recommended by Jellyfish. We took a contract with them for the fibre in 2018 and ERA's Sean Baker suggested at the time that we could route our internet via the ERA data centre. So remote hosting of our infrastructure had been on the cards, but with all the planning, taking everything offline, and executing it, it wasn't something we considered lightly.
"By 2020, our server room in Margaret Street, Soho, had grown up to five racks. We had a mixture of storage, tape decks for backups, all the servers and the workstations that we use for ColorFront Transcoder, Quantel Pablo Rio, Flame and Davinci Resolve. Then the pandemic hit. When we sent everyone to work from home, those five racks were the only thing running in our office.
"We made the decision to go remote with ERA in late 2020. If something like this happened again, at least the equipment would be in a data centre. There were other factors too, such as environmental management; having a machine room on-prem means you're responsible for air conditioning. And a lot of that kit is noisy – there was a permanent scream from the machine room. At the time [but given Soho energy costs, no longer] IaaS was more expensive than hosting our own equipment by a few thousand pounds, but we felt that we could potentially make that money from converting the machine room into a rentable suite.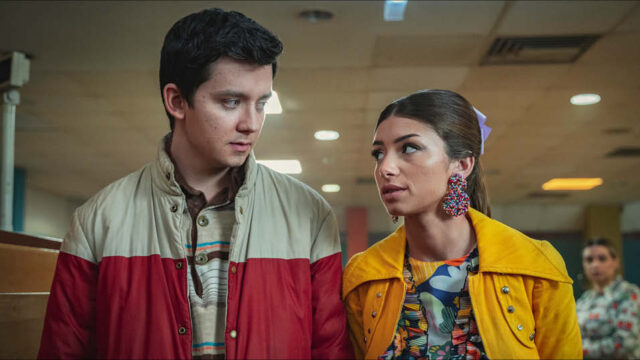 ACCOMMODATING PARTNER
"ERA was very good, very responsive. Considering we were not that big a facility, we were quite demanding in our requirements. We really pushed them hard on what it was we wanted, we scrutinised everything. We put in about five or six months' worth of work on it.
"ERA offered us the option to host our equipment on their network, but it was important that our systems remained separate and fully in our own domain. We rely heavily on segregated VLANs, where nothing can talk to anything else without permission. Given our clients, it was vital that we weren't on anybody else's network, we'd keep all our VLANs under our control, and that we retained control of the network.
"ERA was very accommodating and great at managing the installation. We moved all our storage over there first, then ran a dark fibre link so the equipment was talking between Margaret Street and the ERA data centre. We configured all the equipment in our location, all the VLANs and all the switch ports, as if they were in the data centre already. Then we shut down the hero grading kit and sent that off to ERA. It was a heart-in-mouth moment when it all disappeared on the back of a truck.
"In terms of security, ERA has a Tier One data centre, and our equipment is in our own racks there. They are locked and have the relevant endpoint protection. ERA had it all installed and powered up, we activated the switch ports, and it all came up back where it was the day before. We were able to jump in straight away.
"ERA has a good knowledge of the industry and can supply exact replacement kit if needed. Also, it doesn't seem like much, but no longer having to worry about the aircon going down in the middle of the night was fantastic. It's now somebody else's job to maintain the temperature.
ADDITIONAL SERVICES
"We're migrating our hardware based Teradici systems to software based HP Anyware in order to take advantage of the other IaaS solutions offered by ERA such as hosted workstation leasing.
"Grading is very responsive, and everyone's been really happy with it. We can also hire hosted workstations, so we
can pop up a machine with Rio for remote work somewhere for six months to a year. We've also taken half a petabyte of Polus Storage for rushes backup on non-sensitive projects. Even though it's in their rack, it remains on our network, controlled by our Active Directory. ERA only has access to the management interface, but that still removes the headache of chasing dead drives.
"A new suite has taken the place of the old machine room in Margaret Street, with just one rack on-prem for our firewall. This OPEX model with ERA has given us scalability and the scope to be more agile. It feels like we're a bit more ready for any of those changes that the industry might suddenly throw at us."
ABOUT THE LOOK

The Look is one of London's premier picture post production facilities. Specialising in colour grading, online picture finishing and mastering, The Look places positivity, innovation, empathy as their core values, their mission being to enable a collaborative and empowering environment for its team and clients.

The Look is proud to provide a class-leading post-production experience to the likes of Netflix, Apple, Sky, BBC and Amazon Studios. Handling the conform, grade, online and mastering within a common 4K 16bit HDR/SDR architecture, their unique workflow caters for the simplest to the most ambitious VFX heavy projects. Their approach allows a high level of flexibility towards creativity, enabling The Look to tailor a bespoke service to each individual client.

Their finishing suites feature Sony X300 4K monitoring, and their 10 seater cinema is equipped with 4K HDR laser projection on a 4m screen. The latest, high-end domestic screens are also used alongside for clients to review their work in a 'real world' environment. It is this significant and ongoing investment in the latest technology, led by CTO Mark Maltby, that enables The Look to handle complex and time-sensitive projects in an efficient manner.

Notable recent projects include colour grade, online and mastering of The Gold, a BBC production, Oscar- winning animation The Boy, The Mole, The Fox and the Horse, and Lucasfilm's Star Wars – Visions episode created by Aardman Animation Studios.
Share this story
Share Televisual stories within your social media posts.
Be inclusive: Televisual.com is open access without the need to register.
Anyone and everyone can access this post with minimum fuss.