Sandy Raffan, Series Producer of BBC Studios' upcoming Channel 5 primetime live show, Lost Dogs: Live, explains what went into the making of the show

LOST DOGS: LIVE  with Clare Balding TXs Tuesdays at 8pm on 18th July, 25th July and 1st August on Channel 5 and My5.
'Do you like dogs?' was the first question the talent executive asked. Right away I knew that my next project would be refreshingly different from anything I'd made before.  The executive was quite right to ensure I was dog obsessed before going any further: you can't run a brand new series entirely about missing dogs if you don't care about them, and have a deep knowledge of the canine world.
The Commission
Made by BBC Studios for Channel 5, the original commission developed from a disbelief of the number of missing dogs in the UK, and the torment owners and families go through, not knowing what had happened to their beloved pets. Could we harness the power of the Channel 5 audience and do something about it?
Never have I worked on a brand new programme that has been universally received with unbridled joy – from my dentist to my teenage son, everyone understands the premise immediately, and without exception mentions their emotions. It's a serious issue – the numbers of missing and stolen dogs in the UK – but the stories surrounding the problem can be so joyful: there is nothing like witnessing the tears and the wagging tail that accompanies a reunion between dog and adoring owner.
Making a difference, with Clare Balding
For a prime-time slot on Channel 5 our number one priority was getting the tone right – the balancing act between making a kind of dog version of Crimewatch that would track down some of these missing dogs, and ensuring we gave our audience hope. Because there is hope: 80% of missing dogs are found withing two days. We had to capture the roller coaster of emotions that our dogs take us through in life.
Fortunately dog-lover and ace live presenter Clare Balding wanted to be at the helm of this ship. We couldn't have had a better person to navigate the emotional ups and downs of the world of lost dogs. She will help us make the biggest impact possible with our three hours of air time across three weeks.
A country-wide collaboration
Very quickly we found a vast network of passionate volunteers spread across the UK, all giving their time and expertise to help trace missing and stolen dogs, and all keen that this series reach the biggest audience possible. The volunteers understood that with a larger audience, there is a higher chance of finding these lost dogs. We are working with them to reunite dogs with their heart-broken owners.  Everyone loves a happy ending and every dog-owner understands there's no happier ending than being reunited.
TV Reality
Of course, no one can guarantee that a missing dog will be found to fit the television schedules. Fortunately we found a rich seam of stories of missing dogs who'd been found after weeks, months and even years. The key was tracking down the owners and ensuring they were willing to relive their darkest hours – our brilliant crews often found just re-telling the story would bring them to tears, even though their beloved dog was sitting safely on their lap as they spoke. The pain of their loss was often that strong.
Our compact but excellent team of APs and shooting PDs were on the road for three weeks. Responding to changing circumstances of owners, dogs and locations meant plans constantly changed, but as every single member of the team was a dog lover, as were all our contributors, the stars of the show – dogs like nervous rescue dog Millie, cutie-pie cavapoo Ralph and brave podenco Pip – meant every shoot was joyful. We also shot films with top experts giving key advice to help us all keep our dogs safe.
How many times can you cry in an edit? On this production it was pretty much every day! Some reunions were just so joyful and uplifting, that no amount of viewings diminished the infectious emotion. After a lot of hard work, 13 short films were in the can, ready to play into our live studio outside broadcast.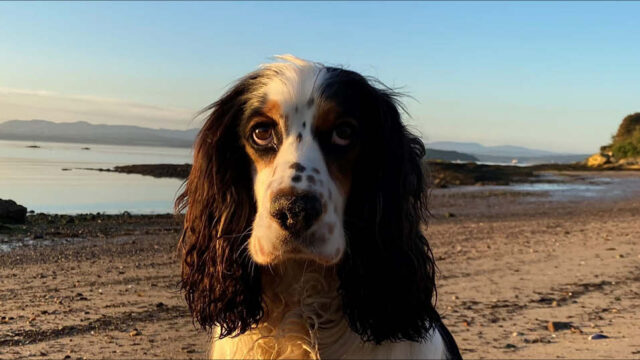 Going Live
As I write, we are four days from our first live broadcast coming from a Dogs Trust centre in the south-east of England.  Guests are booked, their dogs are booked (all bringing their vaccination certificates), our dog-friendly set is almost built and the script is being finalised – doggy puns included. Even our most seasoned live telly team members are showing signs of nerves – this has never been done live before after all – but no matter what happens, this is going to be a celebration of our nation of dog-lovers and how that love drives us humans to keep safe our irreplaceable canine friends.
LOST DOGS: LIVE  with Clare Balding goes out on Tuesdays 8pm 18th July, 25th July and 1st August on Channel 5 and afterwards on My5
PRODUCTION COMPANY: BBC STUDIOS FACTUAL ENTERTAINMENT AND EVENTS, GLASGOW
SERIES PRODUCER: SANDY RAFFAN
EXECUTIVE PRODUCERS: PAT DOYLE AND ADELINE RAMAGE ROONEY
COMMISSIONER FOR CHANNEL 5: KIT MOREY
Share this story
Share Televisual stories within your social media posts.
Be inclusive: Televisual.com is open access without the need to register.
Anyone and everyone can access this post with minimum fuss.