Thomas Urbye – The Look
Credits: Fleabag; Sex Education; Top Boy. The Innocents, Hard Sun; Cobra; Gangs of London; Gunpowder; Trust Me; The Aliens, The Halcyon; Jericho
When I get involved varies from project to project. Ideally before camera tests and when a look book is being put together by the director and DP.  Some DPs want a fully colour managed pipeline, which Netflix is very keen on, where dailies, offline, vfx and first pass grade all match. Others are happy with a simple LUT and want to leave grading to me. 
The starting point of any grade is the mood book. Then key words that are descriptive of the emotion and the texture. Building a rapport comes with that, keeping the process enjoyable. The grade should be the highlight of the whole production process. As a director you should be able to sit back, have a nice coffee and watch as the story is shown in full resolution and all those offline image worries melt away as we curate something fantastic. DPs should be excited about their work and how much they are going to get hired when it comes out!
In terms of influences, I actually like how pushed high-end luxury fashion print advertising is styled and I like that boldness. Also Saul Leiter and Norman Parkinson images are wonderful.  I'm a keen photographer and I like the older film stock looks, they are slightly ethereal.  I can't see the point of doing anything pedestrian in my career. Every image that goes out of The Look has to say something, and look like a still you'd print.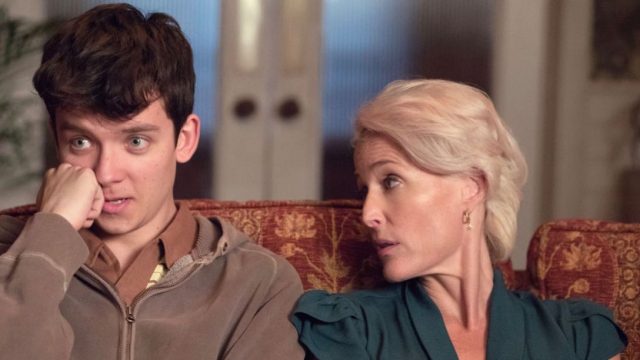 Directors and and DPs love the process, let them be a part of it, it builds trust and I can hear the murmuring of excitement when they like the look I'm curating.  Watching the chef in a high-end kitchen only makes you enjoy the food more.
I keep asking probing questions but never dismiss their interpretation of grading terms. People can be nervous about not saying the right thing. I had "thick" for the look of a scene today. 
Every series going through The Look in 2019 was HDR, same for 2020. HDR allows you to have a large amount of contrast and colour in your image IF you want to, but no one says you have to do that. People come in panicking about popping contrast but now, we just grade away and then I show them the Dolby Vision SDR conversion side by side and most people lose interest in the process as they end up very similar bar more dramatic skies in HDR.  
People come to The Look because they don't want something pedestrian, and no one wants their work to look like 'TV'. We just aren't interested in phoning it in, and clients that do want that don't choose us, they opt for somewhere that will do the UK TV primetime high contrast colourful sickly look.  
A good grade is anything that enhances the story and makes a viewer say in the first minute "oh this looks like it's going to be good" before an actor has even opened their mouth. 
The trend now is people pushing it! Some get it right, others go too far and get in the way of the skin tones and narrative just for the sake of being 'bold'. 
What makes a good colourist is people skills, technical understanding and creative focus, oh and thousands of hours of practice. 
Share this story